We created String Light Covers/SLCs to offer enhanced lighting options for any setting, occasion or special event - personal or professional. String lights are everywhere in the world by the billions. Standard or customized, these diamond shaped covers take string lights to a whole new level! Use String Light Covers as is to stylize your lights or let us add images or logos to suit your needs. For personal use, customize them with images of family, friends, pets, special events, your favorite vacation spot, etc. For marketing and branding, display images of your logo, company, brand, event or favorite team in your nightclub, bistro, bar, cafe, hotel, brewery, distillery, winery, etc. We can print your images on one or two sides. Use one image or change it up with a second one. Made of the same polycarbonate material as automotive headlights, they're durable, clear, UV resistant, dishwasher-safe and beautiful! You can count on them to last, so light it up in style!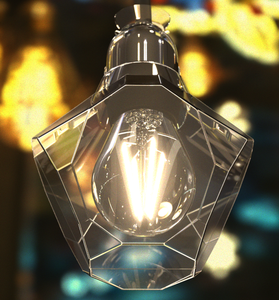 Transparent Diamond String Light Covers
Enhance Your String Lights With Beautiful Diamond Shaped Light Covers
Standard String Light Covers take your string lights to a whole new level of brilliance, indoors or outdoors! The polycarbonate material is the same as automotive headlight lenses - durable, clear, UV resistant and beautiful!
Transparent Light String Covers
Personalized String Light Covers
Display your love of your family, pets, friends, a favorite vacation spot or anything you choose on your string lights (bistro lights). These are the perfect touch for engagements, weddings, anniversaries, graduations, birthdays, etc. We can print your images on one or two sides. Perfect for gifts, too!
Personalize Your Light String Covers
Company Branded String Light Covers
String Light Covers are an ideal marketing tool. Display and promote any brand or logo - college or professional sports, food and alcohol brands, events, private venues, restaurants, hotel chains, etc. The durable polycarbonate material is made to last, indoors and outdoors!
Advertise Your Brand
Honor your family high in the night lights
Permanent UV resistant ink printed for life!